Blemished Visors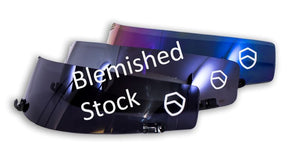 Softball visors feature a tool-less snap in system for easy removal and attachment of the visor to your athlete's Defenders Mask. Our Blemished Visors are for Rip-It, Schutt, Boombah Defenders Masks and Worth Pitchers Helmets only.
What's Wrong With It?
This is probably the most-asked question we get in regard to our imperfect items, but it's also the most difficult to answer!. Generally speaking, our Blemished items have cosmetic damage, like a scratch on the side or a smudge of color where it shouldn't be. The main thing to remember is that all of these items are usable and playable at a greatly reduced cost to you.